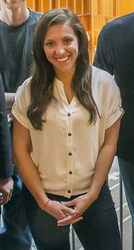 My research interests are generally in understanding the properties of unique materials for improving technology. In the Pines group, I have specifically focused on developing strategies for using nitrogen vacancy centers, a type of defect in diamond, to expand the capabilties of NMR technologies. 
Education
08/07-05/11  Honors B.S. Chemistry, University of Richmond, Richmond, VA, USA.
08/11-12/16  Ph. D. Chemistry, University of California at Berkeley, CA, USA.
Honors
Publications